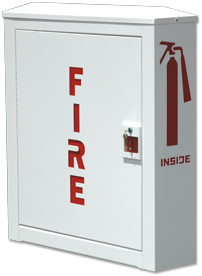 Fire Cabinets
Specifications:
Fire equipment cabinet shall be white with red letters (unless otherwise specified).
All welded construction (no screws).
All exterior corners of cabinet shall be 3/16" radius minimum. 2" x 2" x 1/4" aluminum angle welded to housing for mounting unit to dock. Pre-drilled for six 1/2" bolts. Recommended that unit is mounted with stainless steel washers between cabinet and deck.
Constructed of 1/8" 5052 marine grade aluminum. Painting: Standard red with white lettering. Vitralon Polyester Powder Coat.

Specifications:
POLE: 8' high, 5" square, 1/8" wall thickness.
PAINT: Vitralon Polyester Powder Coat Gloss Red.
Horn, projector and strobe light and pull station are prewired to hand hole.
Unit is free standing or able to mount to side of Fire Cabinet (FC-1).
Anchor bolts by others: 3/8" or 1/2" stainless steel, as required.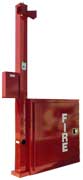 Example of Fire Alarm mounted to the side of Fire Cabinet